By Ida Goeckel
On April 22nd, 2023, Barry Entertainment, sponsored by Three Chord Bourbon, organized and successfully implemented the 2nd Annual Buffalo Blues & Roots Festival at Buffalo RiverWorks. Spanning the entire afternoon into the evening from 1:00-11:00 p.m., the festival featured ten musical acts, highlighting both local and national artists. The lineup from the WNY-based contingent included Henry's Summer Kitchen, The Growlers, The X-Statix featuring Sharon Bailey, The Patti Parks Band, Ray Barry and Friends (a tribute to The Band), Tommy Z., and Miller & the Other Sinners. National artists were Tonemah, Selwyn Birchwood, and headliner, Colin James.
I arrived on the scene later in the day but had the chance to catch up with several of the leaders of three of WNY's/Buffalo-based premier bands after their respective sets.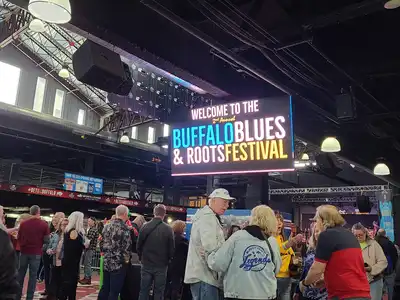 Sharon Bailey: This was her band's second year performing and she acquainted with organizer, Ray Barry, through the Niagara County connection as her band, The X-Statix, hails from Niagara County. The band has been together 5 years and has a residency gig at Central Park Grill (aka CPG's) every 2nd Sat. of the month.  As per my own personal account, Sharon is the consummate entertainer, engaging her audiences wherever she plays.  Her thoughts on the Buffalo Blues & Roots Festival are that not only is it a fun event to play, but it is also one of the few music festivals in WNY. It's perfectly timed in early Spring so all performances are indoors and not dependent on the weather.  It allows local musicians to not only have the opportunity to bill with national acts, but it allows them the opportunity to see each other and mingle. The fact that this festival is specific to blues is important because there are no more dedicated blues houses like the former Lafayette Tap Room.
Patti Parks: Even though Patti's band tours, she agrees with Sharon and considers the Buffalo Blues & Roots Festival to be an excellent opportunity for local pro musicians in Buffalo. This is also her second time performing at this event. And when Patti performs with her band, they hold court, as witnessed during their set. When asked what the future holds for her band, she stated that the current incarnation of her band, which includes a horn section, is going to be named Soulfulicious, and will feature R&B and blues.  She will also have a new album coming out in September 2023.
David Michael Miller of Miller & the Other Sinners: This band is gospel, funk, soul-infused original blues at its prime!  I asked David about his involvement in the Buffalo Blues & Roots Festival, as this was his second year performing as well. He informed me that the organizer, Ray Barry, had reached out to him due to his connection with Three Chord Bourbon, who helped sponsor this event. David and his band are one of several touring local and regional NY musical acts that are considered ambassadors for this vendor. As others have stated, David likes this event because Buffalo is a huge music town and believes there is no reason why this should not become a major festival for blues and roots music. He also reiterated how this festival is a good mix of local and national acts. When asked what's next on the band's agenda, he indicated that he will be self-engineering and producing a new album with 13 or 14 tunes called Thieves in the Bread Line. They are also going to Florida to help support the Pat Benatar and Neil Geraldo tour by playing pre and post-concert shows at nearby venues.
All the local/regional bands represented WNY well and did local fans proud. Each put everything on the stage and the energy was electric! Miller & the Other Sinners were joined by Sharon Bailey for his tune "Rise" and much camaraderie was evidenced among the bands throughout the day, showing mutual support and respect.
After his set, I also had the pleasure of interviewing national recording and award-winning blues artist, Selwyn Birchwood, who hails from Orlando, Florida. First of all, his set was just killer! Everything from traditional to more Hendrix influenced blues, captivating the audience's attention. Afterward, he met his fans and sold his own merchandise, which I always admire in a big-name artist. He was the winner of the Blues Foundation's 2013 International Blues Challenge (band category), as well as the winner of the Albert King Guitarist of the Year award. Selwyn was just recently nominated in 2023 for Contemporary Male Blues Artist and in 2022 for Song of the Year by the BMA. His latest recorded album effort, Exorcist, will be released June 9th of this year with Alligator Records.  Selwyn is no stranger to Buffalo and has made this a fairly regular stop since 2013, connecting with bands like Miller & the Other Sinners all across the region. 
Q: I read you were influenced by Hendrix. Who else influenced you?
S: All of the old Black blues artists, including Albert King, B.B. King, Albert Collins, and Buddy Guy, etc. I didn't get into the blues listening to Clapton or the Allman Bros.
Q: What female artists do you admire or were influenced by?
S: Sister Rosetta Tharp, and I liked Billie Holiday and Sarah Vaughan.
Q: Who are the up-and-coming or rising young artists that you see in the blues arena?
S: Well, Christone "Kingfish" Ingram is not up and coming. He's already there.  (I told him I agreed as I witnessed this artist's prowess last year at the Rapids Theater in Niagara Falls, N.Y.) But also other artists like DK Harrell, Dylan Triplett, Marquise Knox, and Jontavious Willis are young Black blues artists, under the age of 25, who are currently out there.
Q: These names are all unknown to me. Why?
S: That's because they are mostly ignored by the record companies/labels.  (I promised to check out each of these holders of the blues' future soon and it was clear that Selwyn is big on promoting the names of young Black blues artists, as well as paying tribute to the iconic old Black blues artists).
Q: What are your thoughts on this particular festival?
S: This is a beautiful festival with an amazing turnout. There were strong bands and it was a pleasure to be part of it. Buffalo should be music strong and I would like to come back.
I thanked Selwyn for his time.  Unfortunately, though I had management permission, I never did get the timing right to interview Colin James. You can subscribe and listen to Tommy Z.'s radio broadcast interview and time with Colin on WBLZ. I can tell you that the audience was on their feet his entire set and he did not disappoint! Especially with his encore of "Keeping  On  Lovin' Me Baby".
Last, but not least, I interviewed the man, himself, blues musician and organizer of the 2nd Annual Buffalo Blues & Roots Festival, Ray Barry, of Barry Entertainment. (Mind you, I have known Ray since he was a young gun, sitting in on open blues jams at various venues).  I asked Ray what inspired him to start this festival.  He stated that his first reason was that he has been promoting events for the past 20 years at all levels. He had wanted to do the same for the blues scene as he fondly remembered his days coming up with the Rod Nickson band. He said, "Blues has a special place with me."  He has also played with local/regional musicians Jay Moynihan, Paul Yates, and Shannon Street, and had both Paul and Shannon with him today during his set.  He started seriously brainstorming the idea of the festival during the pandemic shutdown and it came to fruition last year in 2022. Three Chord Bourbon has been a main instrumental sponsor.  The support of RiverWorks staff, the WNY Blue Society, and other vendors who displayed their wares, all made for a successful and smooth event.  Ray stated that his goal and vision is to have the Buffalo Blues & Roots Festival grow bigger and bigger. He would like to see it become a destination festival on a national level, drawing people from all over the country to attend.  He has vowed to always include local talent, as Buffalo and WNY are rich with blues talent that he wants to help promote.  He commented that we are so spoiled with the amount of talent here, that we often take it for granted.  Ray wants the world to know that Buffalo is a Blues music epicenter.  Wouldn't that be a great opportunity for our community on so many levels? Go Ray!