By Ida Goeckel
Although Saturday, September 9th, 2023 was a soggy one, it surely did not dampen the blues enthusiasm of those who braved the weather conditions to attend this year's Western New York Blues Society Festival at the Hemlock Fairgrounds in Hemlock, N.Y. The covered Festival Pavilion provided adequate shelter and space for the enjoyable day-long event. This event benefits the WNY Blues Society which supports projects like Blues in the School, The Memphis Bound Competition, and Nurs 'n Blues.
The first band to hit the stage was Luca Foresta and the Electro Kings.  Hailing from Rochester, N.Y., Luca has been blues harping his way into people's hearts  since "the tender age" of 32.  Prior to that, he was a soccer player for the Buffalo Blazers. When the band started, under another name in 1992, he soon realized he couldn't find the right vocalist to fit his band, so he started honing his singing chops.  Accompanied by his musical compadres,  Mike Graham on upright bass (his longest standing band mate), Dan Frank on rhythm guitar, Carmen Verzillo on lead guitar, and Mike Verzillo on drums, Luca bursts out traditional and rockabilly blues, along with his own dynamic originals.  Styling the old pompadour hair, spot on self-taught vocals, and impeccable harp blowing, he pays homage to his harp heroes such as Sonny Boy Williamson, Junior Wells, Charlie Musslewhite, Rick Estrin, Rod Piazza and others. It was a great way to open the show and a very entertaining and fun set. Afterward, I had the opportunity to talk with Luca. He stated that he would love to come to Buffalo (hint hint) and that he admires what the WNY Blues Society does to promote blues music and to encourage young players to keep the blues alive, he being a former member, himself.
I was familiar with the second band to come to the stage, Steve Grills and the Road Masters, as former contestants in the 2013 WNY Blues Society Memphis Bound Competition, which I also covered for the newsletter.  My review at the time was mixed, as I lauded their musicianship, but had been disappointed in their stage presence. Also hailing from Rochester, N.Y., Steve Grills' searing lead guitar and singing performance at today's show was a vast improvement in interplay with the audience and showmanship.  Band members Alan Murphy on keys, Tristan Green on drums, and Wayne Naylor on bass could stand to up their game in this area as well. All solid musicians with a tight sound, there was a lack of band connection with the crowd, except for a brief moment of comic relief when Steve introduced the band…to each other.  A long-time fan of artists like Earl Hooker, Freddie King, and Albert Collins, Steve was inspired to follow in their footsteps. He has recorded with Shakin' Smith. His latest cd is called "After Hours", which provided him the opportunity to record with the legendary, Ernest Lane. The energy level didn't ramp up until the last song, when the bass player got out of his seat and a few dancers did the same. They ended their traditional blues set of covers and originals on a high note.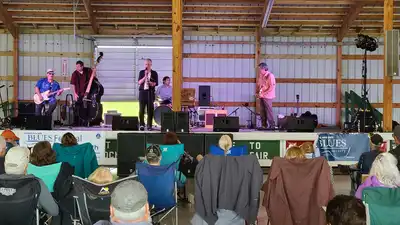 The third band, The Jeremy Keyes Band, is arguably one of the best blues bands to come out of WNY.  The band members are: Jeremy Keyes, who hails from Irving, N.Y. on wailin' blues harp and vocals, Ian Jimerson on tasty lead guitar, Todd Locke on the heart thumpin' skins, and Colin Beatty from Pa. on groovin' bass. (Colin has also played with Brandon Santini).  All relatively young guns, this band of players provide a high octane blues experience with personality, blazing musicianship; the whole nine. 
A true crowd pleaser, the band kept the tunes pumping and received an enthusiastic audience response. Playing mostly covers of old favorites, Jeremy and Ian really play off of one another in a way I've not seen before; Jeremy's harp literally mimicking guitar licks and getting sounds that hit an unexpected sweet spot.  And if that weren't enough, they called up Buffalo blues vocalist, Tricia Jacobs, to sit in on "Baby What You Want Me To Do" that received a standing O. But that's not all, folks! Then, at the urging of MC, Karl Bauer, Luca Foresta joined Jeremy up on stage for an exciting joint blues harp finale to their set.  Also, these two players had long be admirers of one another, so what a treat for them as well. It was just the perfect icing on the cake. As the saying goes, the crowd went wild.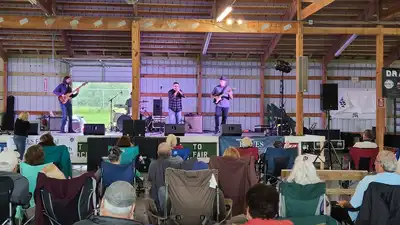 Then it was time for the headliner, the incomparable singer/songwriter/ and multi-instrumentalist from Austin, Texas, Carolyn Wonderland. With advance permission, I had the privilege of interviewing Carolyn prior to her set.  To begin with, the chance to meet and talk with her was surreal for me, because I was a fan and had covered some of her tunes.  More so, it was her nonchalant and unassuming approachable way that made me feel as if I were just chatting casually with a friend.
Standing in the drizzle, here's our interview, though I wished I had had a quieter spot for us to converse.  She is quite soft-spoken, despite her powerful vocals on stage. (She generously took the pen from me and wrote it down some answers for me because it was hard to hear over the music). We also had a persistent bee buzzing around that we were shooing away.
Q: Could you tell me what women in the blues who influenced you?
C.W.: There really was no difference gender-wise in my heroes. Most are from Houston: Texas. Trudy Lynn, Lovelle White, Jerry Lightfoot, Little Screaming Kenny, and Joe "Guitar" Hughes to name a few.   
Q: Why the blues as opposed to other genres?
C.W.: I started playing at the age of 8. I played in bars at 14. It was easy to sneak into blues joints and they would challenge me to get up if I thought I was good enough. 
Q: Do you think women musicians are gaining acceptance in blues arena?
C.W.: I think the women are getting better and it's getting better for them. There are more women players being represented.  
Q: I know that you had been touring with John Mayall since 2018. Tell me what that was like.
C.W.: He was just such a sweet and great player and boss. He just retired last year. We still occasionally get together for dinner.
Q: What's it like to know that Bob Dylan and the band Asleep At The Wheel are fans of yours?
C.W. : Well that is sweet to know about Bob. I used to work with one of the guys from Asleep At The Wheel. 
Q: When are you going to come to Buffalo, maybe the Sportsmen's Tavern? How did you hook up with the WNY Blues Society? Many female artists like Samantha Fish, Danielle Nicole, Ally Venerably, Vanessa Collier, Ana Popovich, and Joanna Connor have played Buffalo. 
C.W.: Several of us are booked through the same agent, Intrepid Artists or are on Alligator Records.  Jim from Fanatics was kind enough to ask us to come play. We are playing there Monday night. 
Q: What about expanding to other genres?
C.W. :  Much of what I do is all over the place. Especially on my latest album.
Q: Can you tell me your band members and what to expect in your upcoming set?
There is Shelley King on acoustic guitar and vocals, Naj Conklin on bass and vocals, and Giovanni "Nooch" Carnuccio on drums and vocals.  As we speak, our set list has not yet been decided.
Q: What's next for you?
C.W. : Staying on the road and promoting my new album "Tempting Fate" on Alligator Records. Also I have a charity organization called HOME Austin.com with other female musicians like Marcia Ball, Shelley King, and Ruthie Foster. Ruthie and me are the founders.  (HOME was formed by a group of concerned women in Austin, Texas, for the purpose of providing financial housing assistance for aging musicians in need).
Q: How do you find time/how difficult is it to write new songs while touring? 
C.W. : Writing is difficult on the road, but I find quiet moments to do it.
Q: What advice do you give to players?
C.W. :  Staying in it is the best way to keep going.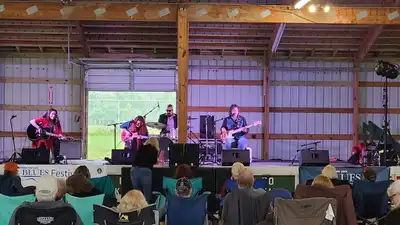 I thanked her for her time, and we hugged. Then her set started after some technical and logistical adjustments. With harmonies and blistering vocal showmanship, Carolyn and her crew held a mesmerized audience captive. Her set was comprised of both her and Shelley King's orginals and they complimented each other with supporting roles. The drummer in the back, Carolyn, Shelly, and Naj sat up front on acoustic guitar/bass. And while the set was awesomely good, I couldn't help but feel for Carolyn as she seemed to be having some issues with the sound. Part of it was the sound man and part of it, I felt, could've been remedied by the use of headset mics. Carolyn is a person who moves her head a lot while singing and this tended to cut her vocals in and out in front of a stationary mic as she did so. I also pondered why the set was done sitting down, as her videos show her rockin' the stage in a rather animated style. It was only after her set when I ventured to the merch table to pick up her latest cd,that I inquired into the reason for the band being seated during their performance. It was then that Shelley explained to me that Carolyn had broken her ankle and was still recovering. 
Overall, a good time was had by all in attendance, although a venue closer to home might have been better. Hemlock Fairgrounds was fine, although a metal roof for acoustics is not optimal. And the all-day rain could not be controlled. In the future, I might recommend the Backlot Entertainment stage in Akron, or maybe the Hilltop Inn and Grove in Alden.  In any case, it was an fantastic fundraiser and musical experience and I can't wait until the next WNY Blues Society Festival!