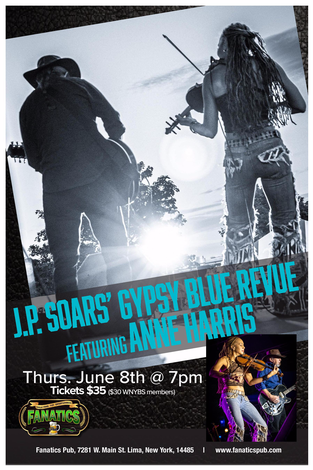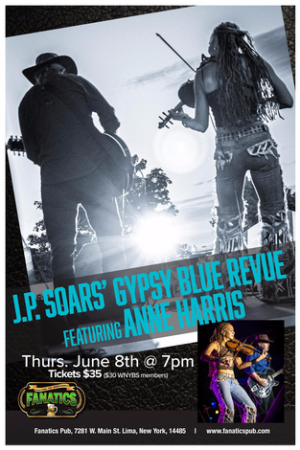 JP Soars' Gypsy Blue Revue featuring Anne Harris
Roots, Blues, Americana, Jazz
"Soars is not an empty suit of technique. He is instead a studied practitioner of the guitar arts…" (Full Moon in Memphis 2015
— C. Michael Bailey "All About Jazz"
"Do yourself a favor and get out and see this package. I guarantee you will leave with a smile on your face and a warmth in your heart that'll last a long time," says Soars. "It's an absolute breath of fresh air."
Band on fire: The Red Hots Nominated for 4 BMA's in 2022!
JP Soars prides himself on having one of the tightest bands on the scene, with Red Hots bassist Cleveland Frederick and longtime drummer Chris Peet. The trio was nominated for 4 Blues Music Awards in 2022 including BB King Entertainer of the Year, Band Of The Year, and Instrumentalist Of The Year (Guitar & Drums). Add to the trio, violinist extraordinaire Anne Harris, and what you get is, "A magical, almost religious musical experience," Soars says.
Together, their mutual chemistry, high energy, and skill sets create a cohesive vision, with echoes of Muscle Shoals and Macon, that organically flows together into an entirely original and dynamic form of Americana, Southern soul roots music with a modern sensibility…
JP Soars' Gypsy Blue Revue has been touring Festival Stages nationwide and has quickly become one of the most sought-after acts in 2023. Their high-energy, eclectic performances have been shaking the stages from Florida to Northern Maine to Washington and the Western states.
(Summer 2023). Their tour schedule can be found at https://jpsoars.com/
ALL TICKET SALES ARE FINAL
Discount Code: WNYBS-JP
Tickets -> https://events.eventgroove.com/event/Jp-Soars-Gypsy-Blue-Revue-Featuring-Anne-Harris-73431